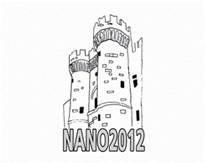 FRIENDLY REMINDER
New Deadline for Abstract Submission
June 1st
Dear NANO2012 Conference Participant:
Please go to the conference website and submit your abstract and register for the NANO2012 XI International Conference on Nanostructured Materials held in Rhodes, Greece in August 26-31.
Please be aware that a limited number of rooms are available at the secured rate of 83 euros for EARLY REGISTRATION ONLY. Therefore, after your registration has been paid, you will receive a confirmation number to secure accommodation with Triaena Tours as well as an official receipt you need to present at the conference. If you have any question about registration, send an email to registration@xxxxxxxxxxxxxxxxxxxxxxxxxxxx.
Go to the NANO2012 conference website, www.nano2012.org, to view updated and pertinent information, such as:
Opening Remarks: Honorable Stathis Kousournas, Mayor of Rhodes; and Dr. Constantinos Kokkinoplitis, Hellenic Republic, Ministry of Education, Lifelong Learning & Religious Affairs, General Secretariat for Research and Technology. and Dr. Richard Edwards, Executive Vice President Rutgers University.

Opening Plenary Speaker: Dr. Subra Suresh, Director NSF (USA);

Opening Keynote Speaker: Dr. Daniel Shechtman, Nobel Laureate in Chemistry (2011);

Keynote Lecturers: Dr. Herbert Gleiter, VP German Academy of Sciences; Orlando Auciello, President Elect MRS (USA); Dr. Julie A. Christodoulou, Director ONR (USA); Dr. Cyrus Wadia, Asst. Director, Clean Energy & Materials R&D (OSTP USA).
For your information, we have already received an overwhelming number of responses, worldwide, from over 38 countries. Abstract submission has been extremely positive, therefore, an exciting scientific program and specialized workshops are scheduled to be presented in the next few weeks!
In celebration of 20 years of successful Nano Conferences, we plan to hold a unique festivity on the Island of Rhodes. There will be several scholarships available for those students and young scientists who qualify for support (an application will be accessible on the www.nano2012.org website in the next few weeks). During the conference, there will be awards offered for best papers and poster presentations. Publication proceedings will also be announced shortly. An outstanding social program has been planned for all participants and their companions as well as organized tours. For more information, contact the conference secretariat.
On behalf of the organizers and committee members, we thank you in advance for registration and joining us at this very exciting scientific event!
Yours,

Dr. Thomas Tsakalakos , Chairman
NANO2012 XI International Conference on Nanostructured Materials
LEGAL INFORMATION ABOUT THIS NEWSLETTER: This e-mail cannot be considered as spam as long as the senders contact info and unsubscribe options are valid according to the EU Directiva 2002/58/EC, Relative as A5-270/2001. We are firmly committed to respecting your privacy. We do not share your information with anyone, for any reason. If you don't wish to receive newsletters please send an email to secretariat@xxxxxxxxxxxx